Wood-Mode Cabinetry
The very best in American-made craftsmanship, Wood-Mode luxury products are the culmination of more than 70 years of precision workmanship and design leadership. Best known for their stunning, furniture-grade finishes and extensive customization capabilities, Wood-Mode delivers designer cabinetry with quality materials and personalized solutions to satisfy the most discerning homeowner.

Brookhaven Cabinetry
Inspired by the very best of Wood-Mode, Brookhaven by Wood-Mode provides the same dedication to quality materials and American craftsmanship in a select group of products with limited customization options to meet your budget. The Brookhaven selection of styles, finishes and storage solutions puts the Wood-Mode lifestyle within reach.
Elmwood Fine Custom Cabinetry
Since 1973, Elmwood Fine Custom Cabinetry has been seen as an industry leader, manufacturing the highest quality custom cabinetry that your space deserves. Elmwood's designers and craftsmen foster a passion for creating their products out of a 150,000 square foot production facility, which includes some of the most technologically advanced equipment available today.

Caesarstone
For more than a decade, Caesarstone has set new standards in innovation and craftsmanship, and continues to set trends in the industry for quality quartz surfaces. By using the highest quality materials with unprecedented physical properties, Caesarstone surfaces are sure to make your home unique.
Miele
Miele is a German manufacturer of domestic appliances, including ranges, ovens, dishwashers, and much more. The company was founded in 1899, and thanks to a philosophy that focuses on the dynamic development of quality and technology, the brand is now identified with unsurpassed product quality.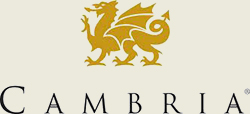 Cambria
Cambria's natural quartz countertops bring true elegance to your home and help you create that dream space you've always imagined. With over 100 designs to choose from, Cambria's surfaces are visually captivating, while still providing more durability than granite. Offering the perfect combination of form and function, all of Cambria's surfaces are stain, scratch, and heat-resistant – a care-free option for any space in your home.
AGA MARVEL
AGA MARVEL is the most recommended luxury cooking brand in the world, offering world-class refrigeration and other essential appliances for iconic kitchen living. Manufacturing only the highest-quality products, AGA MARVEL's appliances have developed a reputation for iconic style, innovative engineering, and longevity.